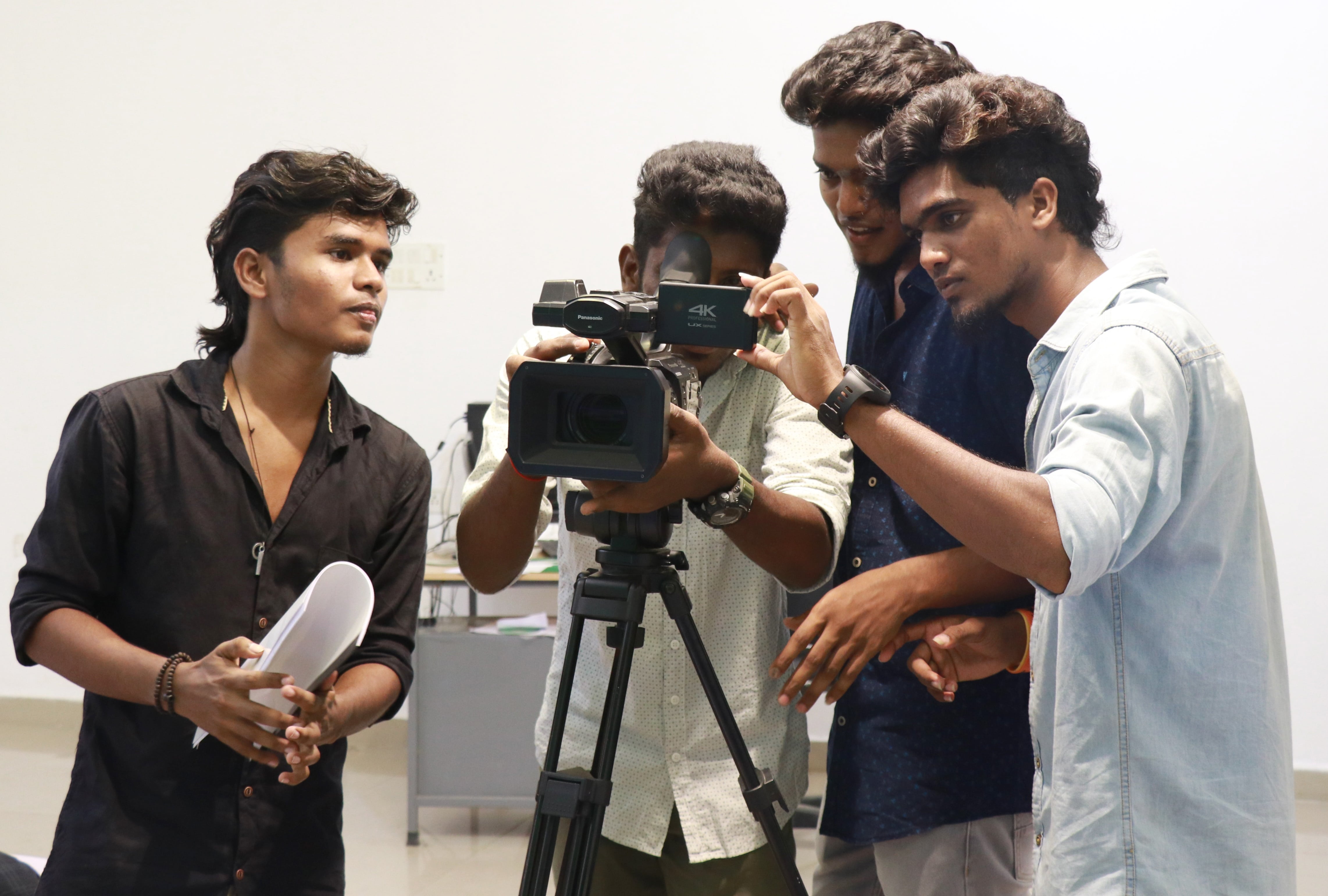 B.Sc. Television Production & Journalism
Bharath Institute of Higher Education and Research (BIHER) has started the Department of Television Production & Journalism in 2019.
Television Production & Journalism is a three years Media Literacy course in which we train our students to communicate creative ideas through various visual aids like Photography, Television production, and Journalism, endeavors to sensitize the students with all the nuances of the media and entertainment industry.
Here are some of our salient features
The Department's allegiance in providing merit to our student community is shining bright by providing them the necessary equipment and constant care towards the upgrading and following the emerging technologies and trends in media is reflected by the media friendly teaching and chain of workshops.
TELEVISION PRODUCTION STUDIO

We have an exclusive Television Production studio with green matte and indoor sets to shoot talk shows & News. Students shoot the projects for the Department web channel and through this we provide live project experience to every student.

EDIT SUITE

Sophisticated Dubbing theatre and edit suite with high end equipment provides professional atmosphere and experience.
LIST OF CORE & ALLIED PAPERS(CHOICE BASED CREDIT SYSTEM)
SEMESTER I
Language - I English - I Introduction to Journalism Reporting, Writing and Editing Writing Skills Review writing
SEMESTER II
Language - II English - II Reporting and Interview techniques Photo Journalism Environmental Studies Value Education Photo Journalism – Practical Journal Designing - Practical
SEMESTER III
Language - III English – III Public Relations & Journalism Television Production Non-Major Elective – I Talk show Production – Practical Script Writing – Practical
SEMESTER IV
Language - IV
English – IV News Production Public Interviews Non-Major Elective – II Skill Based Elective I News Production – Practical Public Interviews – Practical
SEMESTER V
Communication Skills Personality Development Magazine Editing Skill Based Elective – II Skill Based Elective – III Magazine Editing (Practical) Discussion show (Practical) Campaign and Media Research (Practical)
SEMESTER VI
MAJOR ELECTIVE – I

1. Folk Media 2. Translation & Proof reading 3. Introduction to Publishing
MAJOR ELECTIVE – I

1. Media Ethics 2. Introduction to Documentary 3. Promo and publicity Techniques
ELECTIVE PROJECT
1. Documentary & PSA 2. Promo and Publicity 3. Celebrity Interviews Project - Internship Extension Activities