Welcome To
BIHER
The first self-financing Engineering College in the name of Bharath Institute of Science and Technology (BIST) was started in Tamil Nadu in 1984 by Sri Lakshmi Ammal Educational Trust, established by the academic visionary Dr.S.Jagathrakshakan. The trust then started Sree Balaji Dental College and Hospital, in 1989. Sree Balaji Dental College and Hospital was first recognized as a Deemed to be University by MHRD in July 2002, under section 3 of the UGC Act 1956 under the new trust Bharath Institute of Higher Education and Research (BIHER). The Bharath Institute of Science and Technology (BIST) was then brought under the ambit of Bharath Institute of Higher Education and Research (BIHER) in January 2003.
Later the following institutions of the trust were brought under the ambit of BIHER
Sree Balaji College of Nursing, Chennai
Sree Balaji College of Physiotherapy, Chennai
Sree Balaji Medical College and Hospital(SBMCH), Chennai
Sri Lakshmi Narayana Institute of Medical Sciences (SLIMS), Pudhucherry
Thus, Bharath Institute of Higher Education and Research (BIHER) is providing multi-stream, multi-cultural and high quality education to nearly 10000 students from around the world. It is functioning in a sprawling area of 305 acres of land with 1.3 crore sq.ft buildings located in 6 Campuses both in Tamil Nadu and Pudhucherry with the state of the art infrastructure facilities. There are well qualified Teaching Faculty members to teach various UG and PG programmes and to guide Ph.D. Research.
Vision
"Bharath Institute of Higher Education & Research (BIHER) envisions and constantly strives to provide an excellent academic and research ambience for students and members of the faculties to inherit professional competence along with human dignity and transformation of community to keep pace with the global challenges so as to achieve holistic development."
Missions
To develop as a Premier University for Teaching, Learning, Research and Innovation on par with leading global universities.
To impart education and training to students for creating a better society with ethics and morals.
To foster an interdisciplinary approach in education, research and innovation by supporting lifelong professional development, enriching knowledge banks through scientific research, promoting best practices and innovation, industry driven and institute oriented cooperation, globalization and international initiatives.
To develop as a multi-dimensional institution contributing immensely to the cause of societal advancement through spread of literacy, an ambience that provides the best of international exposures, provide health care, enrich rural development and most importantly impart value based education.
To establish benchmark standards in professional practice in the fields of innovative and emerging areas in engineering, management, medicine, dentistry, nursing, physiotherapy and allied sciences.
To imbibe human dignity and values through personality development and social service activities.
Disciplines & Departments
BIHER strives to promote interdisciplinary learning with 12 different disciplines such as Health economics, Data sciences, Theology, Music, Liberal Arts etc.,
50% of BIHER's programs will be interdisciplinary by 2023, 75% in 2028 and 100% by 2033 – Tuned as per the needs of National & International Importance.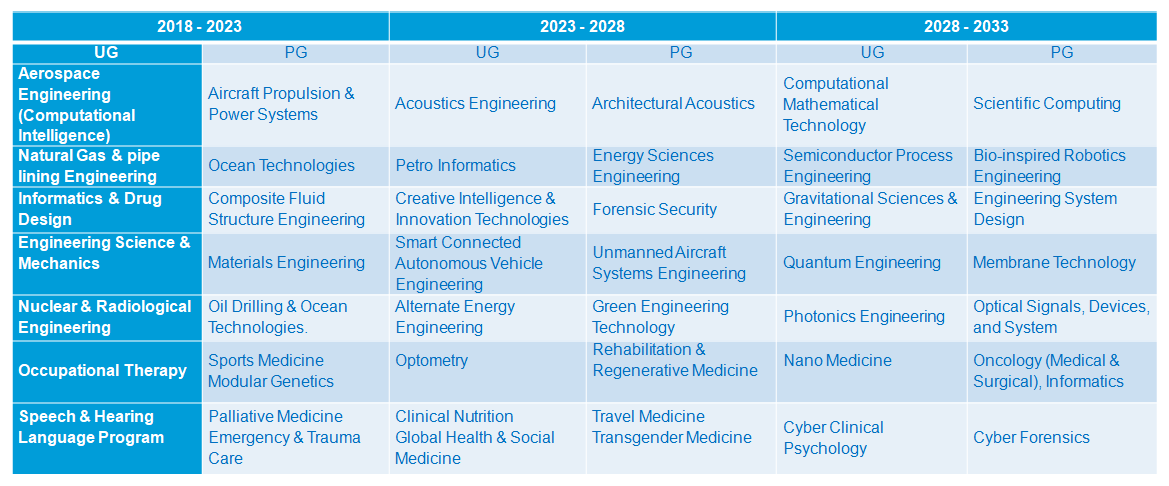 Research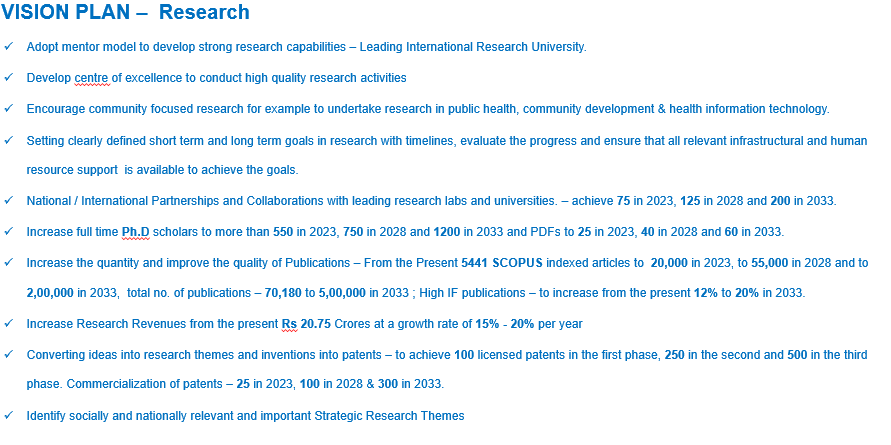 Students Capacity, Admission & Scholarships
To stop brain drain – reverse the trend – attract the best young minds from all over the world. Need- blind admission policy.
To improve the knowledge economy - make INDIA the knowledge super power of the world.
Transparent merit based admission - equal opportunity - all strata of the society.
To Enroll – 15,000 students in 2023, 25,000 in 2028 and 50,000 in 2033.
Innovative & Inter disciplinary courses – 50% in 2023, 75% in 2028 and 100% in 2033.
International partnerships and collaborations – 350 MoUs of which 20% with top 100 institutions
Intra and Inter Institutional transfers / exchanges – vertical and horizontal mobility
Increase the ratio of Foreign Students - 5% in 2023, 10% in 2028, 25% in 2033. Students from Asian countries – Alternate for US & Europe.
Dedicated 24x7 International Student Facilitation Centre – Help Line
Introduce new Scholarships – BIHER JEE, Dr.J.R., BRICS, SAARC, GCSS,TCS, ICCR, Common Wealth scholarships, Reciprocal scholarships Scheme,
Craft Instructors Scheme etc.,
Increase the amount of scholarships – Special Attention for sports - 25% additional scholarships
Faculty Recruitment – Regular / Foreign
To increase the faculty student ratio to 1:7 in 2023, 1:5 in 2028, 1:3 in 2033.
Preference to faculty – Nobel Laureates, National / International awards, Publications in reputed journals like NATURE, SCIENCE, LANCET, Harvard Business Review, IEEE Transactions etc.,
To improve the faculty quality – publications – Citations – patents – Projects.
To attract more foreign / foreign qualified faculty – achieve 45% in 2023, 65% in 2028, 85% in 2033.
Increase the no. of Ph.D teachers to 50% in 2023, 75% in 2028 and 100% in 2033.
Faculty from Industries, National / International Research Organizations.
Encourage interdisciplinary research by facilitating inter departmental and inter institutional transfers.
Build and strengthen strategic alliances and relationships.
Emphasize knowledge exchange and translation among faculties at National & International Universities / Organisations.
Open and transparent Human Resources policies to nurture a healthy Employer – Employee relationship.
Diverse faculty - Value the expertise of faculty who bring diversity to a department or institution.
Conducive Environment , Resources , Amenities, Campus Accommodation – International Standard
VISION IMPLEMENTATION PLAN
Academics

Launch new programs with innovative curriculum design - Provide exposure to multiple subjects to get multifaceted exposure.
Flexibility to students - options / add-ons to core subjects, develop Device Agnostic Technology to access online content.
Funding / incubation entrepreneurial ideas, Flipped class room – Integrated Courses & Need based learning.

Research

Industry relevant topics for applied research. Platforms (forums, seminars) for industry-academia collaboration - nodal agencies.
Allocate funding for development of research oriented infrastructure, the requisite environment for R&D.
Attract top notch researchers to lead collaborative research between multiple stake holders.
Increase expenditure on R&D to 35% in 2023, 40% in 2028 & 45% in 2033. Provide funding for community focused development oriented research.

Faculty

Grant autonomy to well performing Departments / Research Centres / Centre of Excellence to devise their own mechanisms to recruit faculty.
Encourage active participation of the industry experienced professionals in teaching and offering sabbaticals, incentives & promotions for all faculties.
Tenure based system, performance based remuneration system.
Financial support for Exchange programs, knowledge update. Best - in - class faculty to carry out collaborative research activities with top institutions. Students
State of the Art teaching / pedagogy / learning / research / sports / infrastructure & amenities.
Design courses competing with the best, most sought after courses of top international institutions.
"Feel at Home" Accommodation – Hostels to accommodate students – Scholarship support – "Earn while Learn"
Finance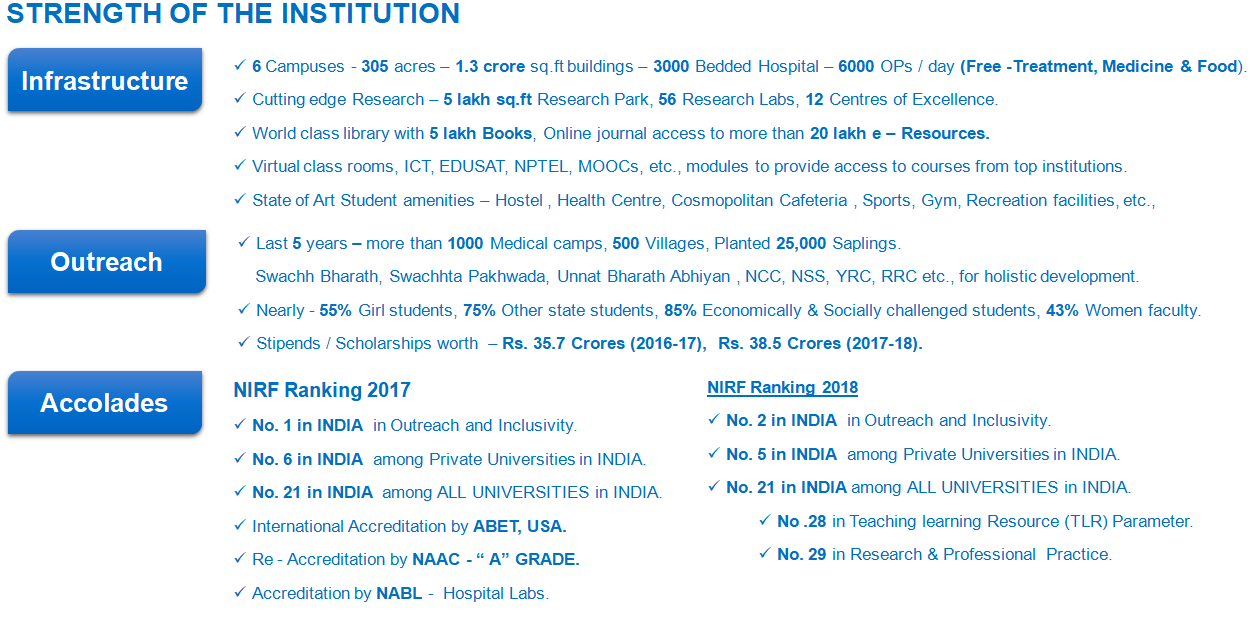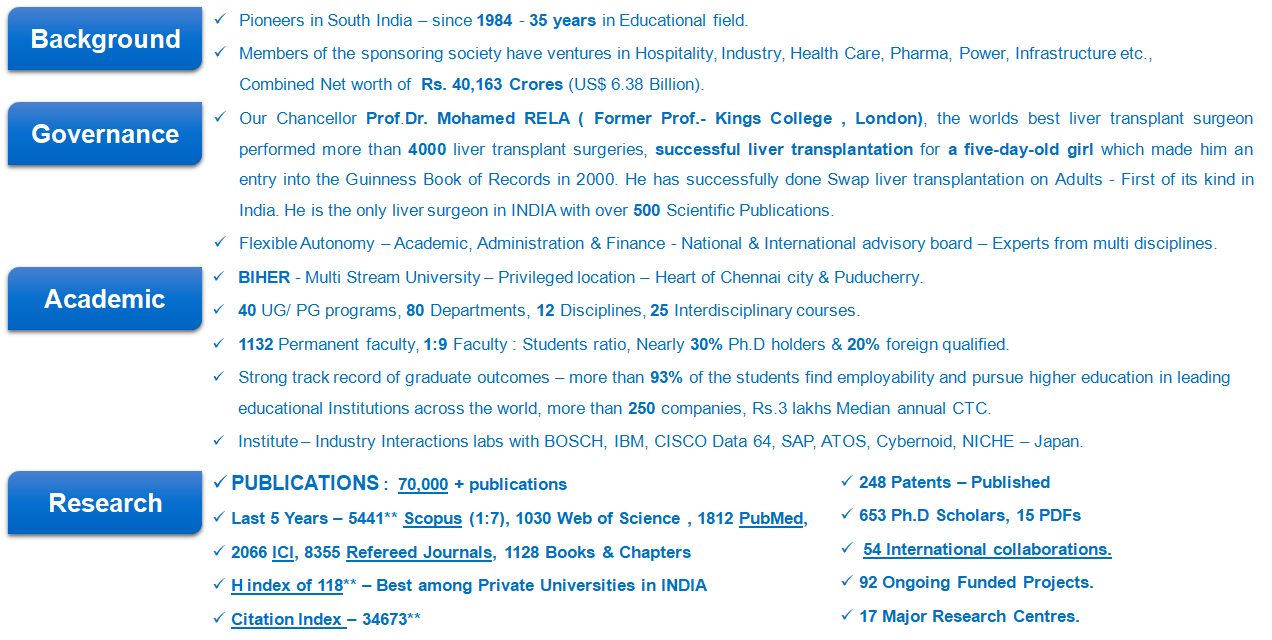 A History of Enlightening Students
Bharath Institute of Higher Education and Research (BIHER) is one of India's leading institutes, with more than 10,000 students and 900 faculty members. The areas of excellence range from engineering and medicine to management and humanities. We live in an increasingly interconnected world that faces challenges and complex problems on a global scale. At the start of the 21st century, BIHER is uniquely prepared among the other universities by its breadth of scholarship, entrepreneurial heritage and pioneering faculty - to provide research and real-world approaches to address many of the current issues.
The era of globalization means many things to Bharath: research on issues relating to science and technology, exchanges with foreign universities, overseas opportunities for undergraduates, and collaboration. BIHER embarked upon ambitious strategic initiatives to ensure that Bharath continues to educate future leaders and to find solutions to the most pressing global challenges through its International Advisory Board with eminent scholars from 40 top universities/organizations across the world, Corporate Advisory Board with eminent executives from 215 leading companies, Faculty Abroad Program, Student Semester Abroad Program, Research Institute, Innovation in Teaching and Learning Pedagogy, and Diversity of students from 52 countries and from across India.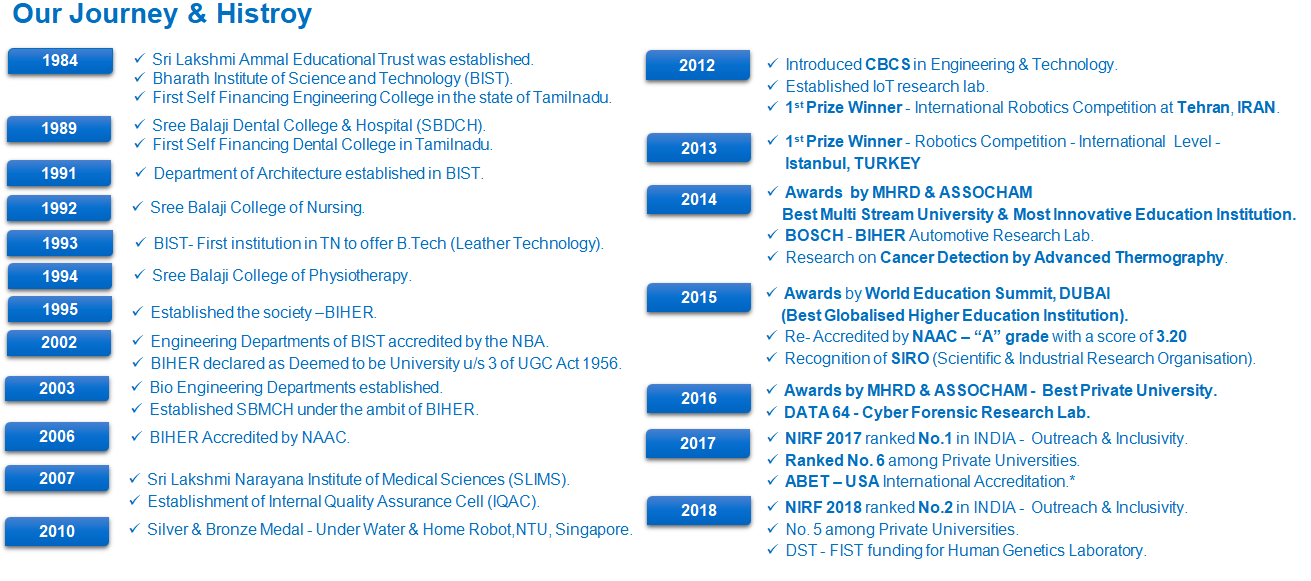 Dear Students
I am happy that you are joining our Institute for pursuing the course of study of your choice. This introduction to our Institution speaks of those features that reaffirm our faith in, and commitment to, the essential task of helping you transform yourself into a careerist in dental, medical, engineering and technology.
I am sure you will make the best use of the programmes offered, facilities provided and opportunities created here in your interest. I am quite confident that you will address yourself to the tasks of learning with a tremendous sense of involvement and come out successful with flying colours in your cherished endeavour.
Let me greet you at the beginning of an academic journey towards the goal of a rewardingly prosperous career.
- Chancellor
As per the UGC guidelines, BIHER is regularly conducting the meetings of Statutory Bodies such as
Board of Management Meeting
Planning and Monitoring Committee Meeting
Finance Committee Meeting
Academic Council Meeting
Administration
Bharath Institute of Higher Education and Research
# 173 Agharam Road Selaiyur,
Chennai - 600 073 Tamil Nadu, India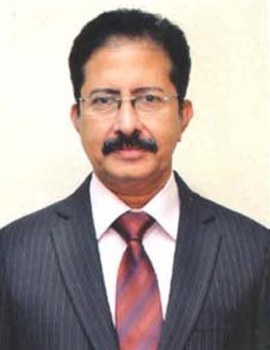 Dr. V. KANAGASABAI
Vice - Chancellor
E-Mail: vc@bharathuniv.ac.in
Phone: 9842748084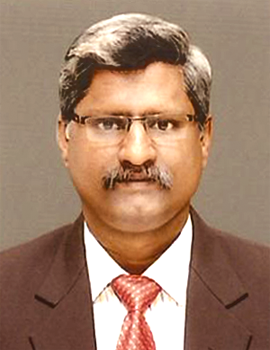 Dr. R.M.SURESH
Pro Vice - Chancellor
E-Mail: pvcac@bharathuniv.ac.in
Phone: 9444285519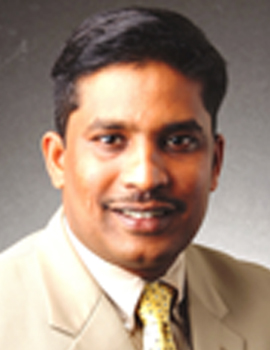 Dr.S.BHUMINATHAN
Registrar
E-Mail: registrar@bharathuniv.ac.in
Phone: 9444023359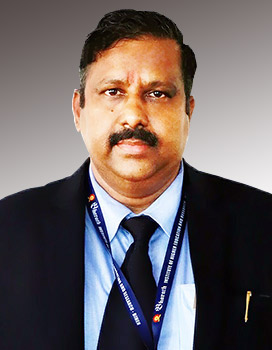 Dr.R.HARIPRAKASH
Additional Registrar
Email: ad.registrar@bharathuniv.ac.in
Phone:9952086700